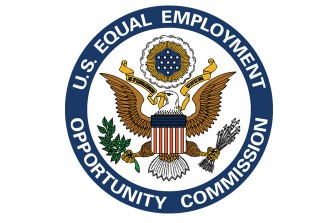 On September 5th, Proskauer partner Steve Pearlman had the honor of delivering a webinar with EEOC Commissioner Chai Feldblum, which Proskauer senior associate Danielle Moss moderated.  Commissioner Feldblum is the co-author of the EEOC's report on rebooting harassment prevention. The webinar focused on how the #MeToo movement has impacted workplace dynamics and discussed innovative solutions for preventing sexual harassment.
Trends.  Commissioner Feldblum noted that overall EEOC charges for the first three quarters of fiscal year 2018 decreased by approximately 12% as compared to fiscal year 2017, but the number of sex-based harassment charges rose approximately 3.5% during the same time period.  This is illustrated in the below chart.  Also, visits to the EEOC website related to harassment issues have more than doubled with the expansion of the #MeToo movement.  Providing context, the Commissioner first emphasized that the EEOC has always pursued harassment charges—including harassment based on protected characteristics other than gender. However, the Commissioner acknowledged that in the wake of #MeToo, the EEOC is keenly focused on sex-based harassment.  The Commissioner added that the positive state of the economy may be contributing to a decline in EEOC charges.  Mr. Pearlman noted, anecdotally, an uptick in internal complaints and demand letters, but relative homeostasis in sexual harassment litigation.
Non-Disclosure Agreements.  Identifying changes in the legislative landscape, Ms. Moss indicated that New York State recently passed budgetary measures prohibiting the use of non-disclosure clauses in settlement agreements relating to sexual harassment, unless the condition of confidentiality is the complainant's preference.  Similar legislation has been proposed at the federal level (e.g., HR 4729 "Ending Secrecy About Workplace Harassment Act") and in other states (e.g., California, New Jersey, Pennsylvania and Washington).  The Commissioner observed that non-disclosure agreements often undermine the need to "get the word out," but that prohibiting such agreements raises complicated policy issues. Mr. Pearlman submitted that alleged victims of harassment may in many cases desire confidentiality and that precluding confidentiality agreements may have adverse consequences.  For example, some employers settle early in order to avoid reputational damage even from claims that may lack merit, and if they cannot achieve this goal through confidentiality agreements, they may seek vindication by trying to set the record straight at trial.
Mandatory Arbitration.  Ms. Moss explained that New York State now prohibits the use of mandatory arbitration agreements for claims of sexual harassment, except where they conflict with federal law, and that similar legislation prohibiting such agreements have been proposed at the federal level (HR 4734, "Ending Forced Arbitration of Sexual Harassment Act of 2017"), and in New Jersey.  The Commissioner said that while she was opposed to mandatory arbitration, she was strongly in favor of employers offering a robust "menu of options" to resolve complaints, including an internal ombudsman program and various ADR programs, including optional arbitration.  Mr. Pearlman noted that employers may be more apt to use arbitration programs in the wake of the U.S. Supreme Court's recent decision in Epic Systems Corp. v. Lewis, 138 S. Ct. 1612, 200 L. Ed. 2d 889 (2018).  Mr. Pearlman further explained that both employers and employees benefit from mandatory arbitration agreements because they may result in dispute resolution that is less expensive than litigation, provide for confidentiality, proceed more expeditiously than litigation, and offer more predictability and measured results than jury trials.
Corporate Governance Solution.  Mr. Pearlman suggested that employers consider a top-down approach to ferreting out and preventing sexual harassment, explaining that this begins with either identifying a committee of the board of directors whose charter includes this activity, or creating one for this purpose.  First, the committee should begin by conducting risk assessments.  This includes a review of the history of claims against the company and corresponding settlements.  The committee also may wish to commission workplace climate studies.  Second, the committee should work with human resources to modernize sexual harassment and retaliation policies and procedures, including procedures relating to investigations and remedial measures.  Likewise, the committee should work with human resources to ensure compliance with the newly enacted state laws noted by Ms. Moss which now require certain features in policies and training.  Third, the committee should examine current and threatened claims, using a triage process that examines factors such as the severity of the claim (e.g., assault vs. jokes), level of the offender (executive vs. low-level employee) and whether the claims are systemic.  Fourth, the committee should work with counsel to determine what claims should be disclosed in SEC filings, how they should be disclosed, and if current disclosures comply with SEC rules.  Careful attention to such filings is important because there has been a recent uptick in securities and derivative lawsuits arising from sexual harassment allegations.  The Commissioner lauded this approach, noting that it sends a message to employees that the company takes sexual harassment prevention seriously.
Accountability and Deterrence.  As she did in her acclaimed Harvard Business Review article, the Commissioner underscored the importance of ensuring accountability in preventing sexual harassment, particularly accountability for executives and "superstars" (i.e., the most powerful and/or visible "faces" at the company).   Concurring with the Commissioner, Mr. Pearlman identified methods of fostering accountability of executives, such as including provisions in executive employment agreements requiring stock clawbacks, coverage of litigation and settlement costs where harassment is found, using a definition of "cause" in the termination of employment context that encompasses harassment, and requiring executives to attend interactive anti-harassment training.
We thank Commissioner Feldblum for her insights.