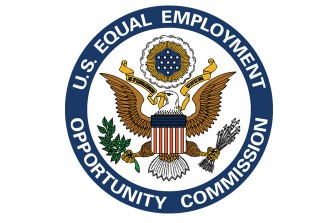 On November 15, 2016, the EEOC published its Fiscal Year 2016 Performance and Accountability Report. The Performance Report details the EEOC's efforts over the past fiscal year, which ran from October 1, 2015 to September 30, 2016, toward achieving "equality and justice for all" as described by Chair Jenny Yang.  In 2012, the agency adopted a three-pronged strategic plan to achieve this mission: (1) combat employment discrimination through strategic law enforcement; (2) prevent employment discrimination through education and outreach; and (3) deliver consistent service through a skilled and diverse workforce and effective systems.
In its Performance Report, the EEOC reported securing more than $482.1 million on behalf of individuals claiming discrimination in the private sector, state/local government and federal government. This total includes $347.9 million awarded through mediation, conciliation, and settlements to employees in the private sector and state/local government.  The EEOC also obtained a total of $52.2 million through litigation, and $82 million for federal employees and applicants.
The EEOC also reported conducting over 3,600 training and outreach events over the year, with attendance of over 316,000 people. Further, the EEOC updated its Youth@Work website to reach younger generations in the workforce, and launched the Small Business Resource Center to provide small businesses with access to information about employment discrimination prevention.
The Performance Report also highlighted the Agency's investigatory and claim resolution statistics. The EEOC reported receiving 91,503 charges over the 2016 fiscal year, and resolved 97,443 charges in the same year.  The Agency also filed 86 lawsuits alleging employment discrimination and reported achieving favorable results in approximately 90.6 percent of all district court resolutions.  Within the federal sector program, the EEOC resolved 6,792 complaints and 3,751 appeals of agency decisions.  Meanwhile, the agency reported that its mediation program achieved a success rate of over 76%.
The Agency also announced plans to more efficiently address worker and employer concerns in the future. For example, the agency is developing an online intake system that would allow the public to perform self-screenings, submit pre-charge inquiries, and schedule appointments for intake interviews online.
Overall, the Performance Report demonstrates the Agency's continued focused on investigating and resolving federal claims of discrimination and retaliation.